MAUREEN

If I was 12 I'd probably call Maureen my step Granny, but I'm not, so I don't. Maureen moved to Langholm from her
hometown of Nottingham in the early 70s.
Maureen's life has included teaching - both in the UK and Mongolia (really), parenthood, running hotels, running
restaurants, growing her own produce and a million others things. Maureen's not someone who sits back and lets
the world happen. She's involved.
​
Photo library available here
---
---
After talking with Maureen and taking photos, I was anxious about getting down to the drawing, I was in the midst of a
'can't draw' phase - an issue that seems to haunt me. I fall in and out of 'the zone' without any obvious reason. The more
I try to control or combat it, the worse I make it. The only thing that seems to work is to just keep on working, ignoring
the negative results and simply churning out pages. I struggle to remain calm during these periods and many a pen has
​come to a bent nib end.
The 'bad' phase lead me to assess my approach to this project and I felt there was a flaw in my consideration. I was trying
to force my work in particular directions and to achieve outcomes that I'd mentally composed in reaction to the work of
others. I wanted a combination of all those other peoples work but I was failing to add my own work to that mix. I decided
I needed to pay more attention to my own work - what happens naturally on the page - rather than trying to orchestrate
​something else to happen.
I had come at the project with a handful of decisions already made and a number of boxes that the work was going to have
to tick. The pieces will do this, they will show that. This was stopping me from naturally responding - as far as I'm concerned,
​a huge mistake.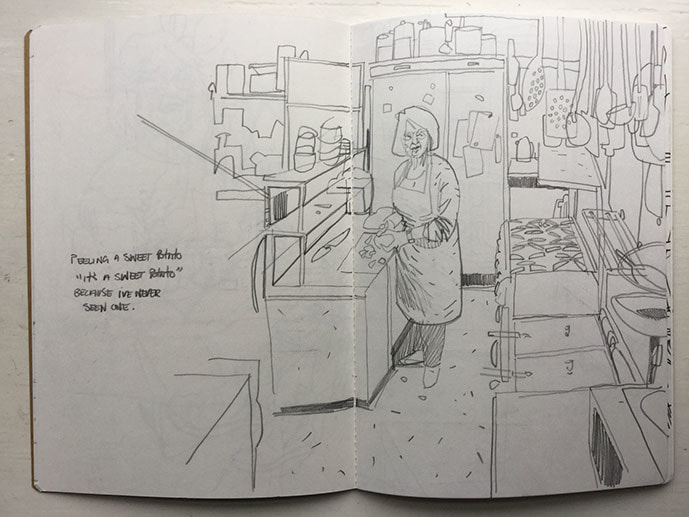 The freedom that this breakthrough afforded me, seemed to do the trick and my drawing slid back into the fluid and almost
​unconscious process that produces the best results (and is most enjoyable).
These pencil drawings were the first I had enjoyed doing for a few weeks and I turned them out fairly quickly
​(which sounds bad but isn't).
Site powered by Weebly. Managed by
34SP.com